Welcome to the LO/HP Website!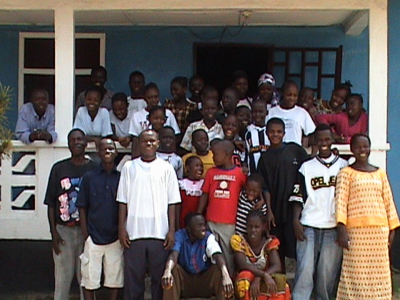 One day, a Black American female, Sharon Loving (now Sharon Loving Ruff), experienced a divine encounter with the Almighty God and learned that her ancestral roots were from the Kpellé tribe in Liberia, West Africa. Then, in December, 1989 she was sent to Liberia to discover her ancestral roots and to be a blessing to her people. It was during her journey, which spanned the first two and a half- months of Liberia's 14-year civil war, when she experienced "a cry from the depths of her heart" that she needed to do something to help alleviate the extreme level of suffering among the Liberian people; her people. Upon returning to America, she began efforts to finance targeted orphanage and humanitarian efforts in Liberia. She launched Christian Works, Inc. and later co-founded Grace Tabernacle…A Way of Holiness ministries' with the Liberian Orphanage/Humanitarian Projects under their Foreign Mission Department. Then in 2009, she established The Liberian Orphanage/Humanitarian Projects, Inc. as a separate 501(c)(3) private non-profit charity organization which continued and expanded previous projects and created new ones. That's why the Liberian Orphanage/Humanitarian Projects, Inc. was created.
The Republic of Liberia, West Africa has been cited as "the poorest country in the world" yet, over the years, many caring people, churches, organizations and business have joined our cause. They have become donors, sponsors and partners. Through their efforts we have been able to significantly improve the quality of life for many Liberians. Without question, we believe the Republic of Liberia would face unimaginable tragedies and devastation without hope, without the international humanitarian aid from large entities and small organizations, such as ours.
Help us…Help them!