LOHP, Inc. 2023 Priority Needs
Priority Need #1: 
Construction of a Residential/Multi-Purpose Building: $20,000US
We are seeking to build a two-story brick building. There will be multi-purpose training rooms (sewing, musical instruction, and choir practice, etc.) on the first level. Currently, there isn't sufficient room in the current school building for the envisioned expansion of training courses; therefore, this building is desperately needed. The second floor will house a boy's dormitory. The Liberian government has requested that the small boys who currently live in the main residential facility, where girls also reside, be relocated to a separate building.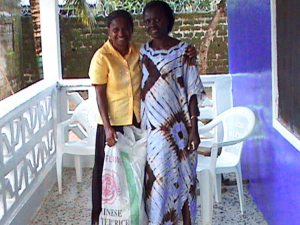 Priority Need #2: 
A Car/Multi-Passenger Vehicle: $5,000US (vehicle cost) and $300US (insurance) The car previously used by SIC is no longer operational. Liberia does not have public transportation and the absence of a vehicle has created many obstacles to getting things done. A private vehicle will transport multiple children to church, higher education/vocational programs, doctor's offices and shopping for food and other items. It can take hours to get transportation from one point to another, both ways. With the increase in COVID-19, this also exposes the staff and orphanage residents to the virus. The cost of the vehicle is $5,000US and registration & annual insurance is $300US.
Priority Need #3: 
Three Motor-Bikes for transportation & business: $3,000US (3-motor bikes) and $450US (insurance) The average cost of gasoline in Liberia is $5US per gallon and the government recently closed the local food market which was in walking distance to a location which now requires the cost of transportation. Daily trips to the market are the norm and there are costs associated with transporting for a single children to doctor's visits, and extra curriculum activities or for staff to conduct business. Additionally, these bikes are also be used to generate income to reduce dependency on international aid. The cost of three motor bikes is $3,000US and registration & annual insurance is $450US.
Priority Need #4:
Internet Service to develop an Educational Satellite System: $2,312US (one-year service) and $150 monthly thereafter
Ensuring the delivery of quality education to the recipients in our projects continues to be a challenge. With a small investment the SIC compound can become a resource and development training hub which can provide quality education to many beyond beneficiaries of its current projects. The first step is to establish internet services within the compound which will be a gateway of knowledge that has never been available before. The benefits of having this resource of access in all subject areas and in various technologies, vocational and technical skills are immeasurable.  International support from virtual teachers/trainers will add to the scope of this project. It can also become a revenue generating project for the orphanage. An initial investment of $2,312US for one year provision of internet services including the $150US monthly service charge is being sought.
Priority Need #5:
Increasing Solar System Capacity: $13,500US
To meet the demand for additional electrical power, we are also appealing for 20 solar panels (250 watts - $250US each), 20 solar panel batteries (12 volt, 200amp - $350US each), interverter (3.5 kva - $1,000US) and a charge controller (1,000 watts -$500US) to augment our existing Solar Panel System which is often overpowered by the electrical load demand.
Priority Need #6: 
Kitchen Upgrade and Expansion Project: $2,500US
We constructed the kitchen building in the orphanage in 2018. It contains a refrigerator/freezer/storage room and a dining room where all meal preparation and cooking done on the front porch using coal made from burnt wood. An expansion will provide an additional room for indoor food preparation and cooking with an electric stove. This will not only be a significant upgrade but will facilitate space for catering services to generate funding for the orphanage.
Priority Need #7: 
Monthly Basic Care Sponsorship:  $35US monthly per child
There are currently 29 SIC Residents and most of them do not have designated sponsors. Sponsorship of $35US monthly will ensure the continuance of nutritious meals, education, clothing, shoes, laundering, hygiene items and medical care in a secure nurturing residential environment.
Priority Need #8:
Replacing Roof on Big Boys House: $416US
The roof on the big boy's house is beginning to leak and patch repairs have been done over the years but the problem is constantly reoccurring. The entire roof needs to be replaced along with its supporting wood beams which are rotten.
Priority Need #9: 
Medicine and Medical Supplies for SIC Mini-Clinic: $400US annually
Our resident nurse has developed a list of medications and medical supplies used to treat various illnesses/infections/injuries most often incurred by SIC residents. More serious illnesses are treated at the local hospital.
Priority Need #10: 
Six Ceiling fans for SIC bedrooms and common areas: $750US
 With global warning, the temperature in Liberia has also seen a significant increase. Ceiling fans will help reduce temperatures, circulate the air for greater comfort of the students and teachers during intense heat as well as  reduce the incidence of heat related illnesses. Additionally, ceiling fans will ensure that the televisions and projectors used for tutoring and training purposes will not overheat. The cost of each is $125US.
Priority Need #11: 
Sixteen Replacement Windows & Screens: $2,140US
All the windows & screens at the orphanage facilities are in need of replacement. There are four double windows and 12 single windows. The current windows are the original windows when these structures were built and the cost of replacing single glass panes is not cost effective.
Priority Need #12: 
Musical Equipment: $1,000US
Currently, playing the keyboard is taught at the orphanage. The children have asked for a drum set and a tutor has been identified. They are interested in learning how to play a variety of musical instruments.