2021 Priority Needs:
Salvation In Christ Orphanage and Humanitarian Refuge Home, Inc. (SIC)
Priority Need #1: 
A car for transportation of multiple passengers: $4000 US
Registration & annual insurance costs: $300 US
The car previously used by SIC is no longer operational. Liberia does not have public transportation and the absence of a vehicle has created many obstacles to getting things done. It can take hours to get transportation from one point to another, both ways. With the increase in COVID-19, this also exposes the staff and orphanage residents to the virus.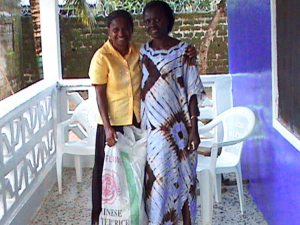 Priority Need #2: 
A motor-bike for transportation for 1-2 persons: $1,000 US
Registration & annual insurance costs: $150 US
The average cost of gasoline in Liberia is $5US per gallon and the government recently closed the local food market which was in in walking distance to a location which now requires the cost of transportation. Daily trips to the market are the norm and there is also transportation for students to attend school or staff to conduct business. Again, with the increase in COVID-19, having a private motor-bike will reduce the incidences of possible exposure. 

Priority Need #3: 
Internet Service to Develop Educational Satellite System: $200US equipment cost
SIC Orphanage and Humanitarian Refuge Home, Inc. (SIC) and Computer lab for the Eliza Neufville Memorial Academy (Elementary and Middle School): $125US monthly fee
SIC now has a solar panel system which provides 24-hour electricity for the first time ever. Internet services will allow SIC to develop an Educational Satellite System. Due to the exodus of educated people during Liberia's 14-year civil war, the education level of teachers remaining in the country suffered, as most had a high school education. The quality of education in Liberia continues to be questioned. Access to educational through the internet will allow for free tutoring for various subjects for all ages and grade levels from elementary to vocational and college level for those who we sponsor under our program and for joint community ventures. The price is an Internet Provider's estimate and in Liberia prices fluctuate and are subject to change. 

Priority Need #4:
Refrigerator (large capacity) for increased life of bulk food: $625 US
With refrigeration SIC staff will be able to purchase milk, eggs, fresh fruits and vegetables directly from farms rather than from street vendors where the excessive Liberian heat causes these items to quickly spoil. Recently, the Liberian government closed the local market which was in walking distance from SIC and refrigeration will reduce transportation costs for basic grocery shopping. Refrigeration will also ensure safe cold chlorinated drinking water from the SIC well pump. No longer will the children, students and staff have to buy cold water from a street vendor which often times is contaminated with bacteria.

Priority Need #5:
Monthly Basic Care Sponsorship of 30 SIC Residents: $1,050US monthly
Food, clothing, shoes, laundering, hygiene items and medical care at $35 each: $12,500 US annually.
Priority Need #6: 
Medicine and Medical supplies for SIC mini-clinic: $400 US annually
Our staff nurse has developed a list of medications and medical supplies used to treat various illnesses/infections/injuries most often incurred by SIC residents. More serious illnesses are treated at local hospital.

Priority Need #7: 
2021-2022 Educational Scholarship for lunch/transportation: $1,200 monthly
for 15 young adults $2US transportation/$2US lunch $10,800 US annually
There are 8 students enrolled in Vocational schools, 3 students enrolled in College, 4 students in high school where transportation is needed.       

Priority Need #8:
Eight Ceiling fans for SIC bedrooms, common areas and kitchen @$125US each: $1,000US
With global warning, the temperature in Liberia has also seen a a significant increase. Ceiling fans will help reduce temperatures And circulate the air to comfort and to reduce incidence of heat related illnesses. Additionally, ceiling fans will ensure that the televisions for tutoring and training purposes will not overheat.

Priority Need #9: 
Sixteen replacement Windows & Screens for SIC: $2,140 US
All the windows & screens at the orphanage facilities are in need of replacement. There are 4 double windows and 12 single windows. These are the original windows when the structures were built and the cost of replacing single glass panes is not cost effective.

The Eliza Neufville Memorial Academy Elementary and Middle School (ENMA)
Priority Need #1: 
Electrical Upgrades (wires, sockets/plugs/control panel): $900 US
to accommodate the electrical power from the new solar panel system and provide electricity in all class rooms.
Priority Need #2: 
Twenty laptop computers @ $500US each to create a Computer Lab for the ENMA school: $10,000US
The creation of a computer lab will be a gateway to expansive teaching, tutoring, training and research opportunities for this school and the community at large. This addition will connect them with worldwide possibilities for growth and expansion.
Priority Need #3: 
An Air Conditioning Unit for the Computer Lab: $500US
An air conditioning unit is needed for temperature control for the laptop computers and printers.

Priority Need #4: 
Two color printers @$100US to print out documents and and $400US for ink: $600US

Priority Need #5: 
Seventeen Windows & Screens for the ENMA school building: $2,840 US
All but 2 of these windows are double windows. Currently, there are Colombo blocks in the place of windows in this school.

Priority Need #6: 
Twelve Ceiling fans for ENMA classrooms and offices @$125 US each: $1,000 US
Ceiling fans will improve air quality and ensure proper airflow of fresh air so the students can be healthy.

Priority Need #7: 
Free Lunch Program for 200 ENMA students @$.30US per meal for 20 days per month (4,000 meals) for 9 months school session. Seeking 200 donors to give $60US ($10,800US for meals + $1,700US for coal, pots, bowls, silverware, utensils and washing powder). Community volunteers will cook meals: $12,500US
pLiberia has an 85% unemployment rate. Most of the ENMA students are from extremely poor single head of household families in the Paynesville Community who struggle paying the low tuition costs. Their meager income only supports 1 meal per day so their children come to school without breakfast and leave without lunch. Reducing hunger pains throughout the school day will significantly increase learning and retention.
Priority Need #8: 
Educational Scholarships for 50 ENMA students @$100US each ($40US tuition + $60US for 2 uniforms, shoes, gym uniform/tennis shoes, and school supplies): $5,000US
Forty US dollars is about ¾ of an average month's salary for many. That's why ENMA structured its costs so low and is the least expensive in the community. Nevertheless, hundreds of neighborhood children's parents simply struggle for daily food and cannot pay any cost for tuition, uniforms and school supplies. Sadly, many who are fortunate enough to enroll often dropout because their parents cannot afford to pay the balance fees. A full scholarship would give such children an opportunity to become educated and equip them with the tools needed to escape a life of extreme poverty and hopelessness.